Vimar Elvox has released a contemporary colour range available for the Pixel Up panel.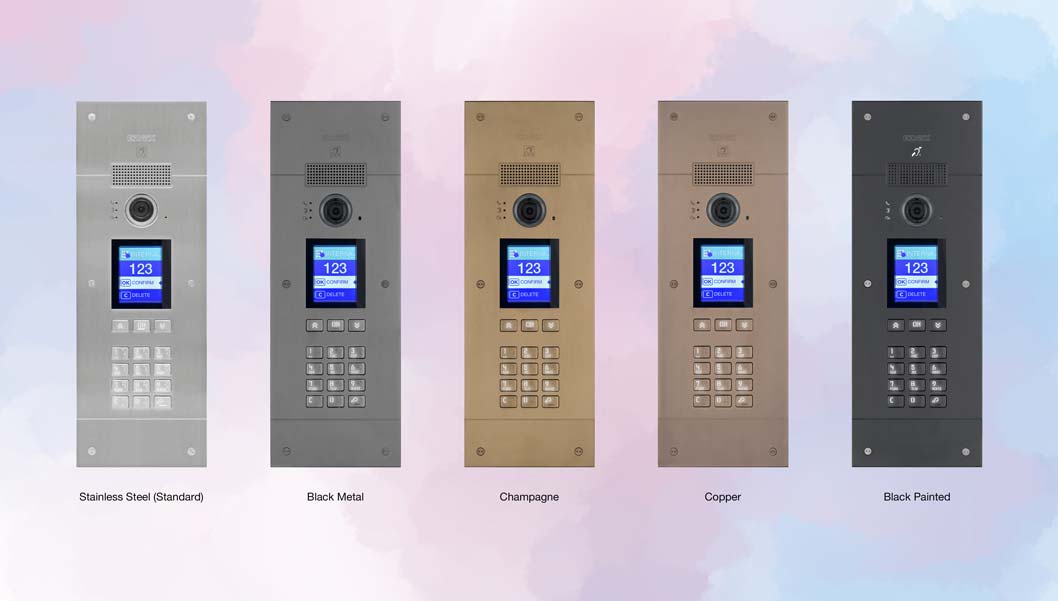 In addition to stainless steel, Pixel Up is now available in 4 new modern colours: Black Metal, Champagne, Copper and Black Painted. The new finishes will be available for the Pixel Up entrance panel with IP technology and 2 wire, and for the surface mounting boxes if required.
New Colours : Black Metal | Champagne | Copper | Black Painted
Pixel Up is the entrance panel with its front plate made of 316-grade stainless steel and a brushed finish, with a thin profile and linear design. It is available with an alphanumeric keyboard, stainless steel buttons and a colour display with polycarbonate protective glass, with IP54 degree of protection and IK08 impact resistance. The Pixel Up is equipped with a high-definition wide-angle lens video camera that protrudes only 3 mm from the wall. For flush mounting, the entrance panel is supplied with a stainless steel box, to which the cover plate is fixed using special anti-tamper screws.
High performance 3.5" display
Voice synthesis
Automatic gain control
Echo cancellation
Integrated Tele loop
Noise reduction and VAD (Voice Activity Detection)